His first novel, If He Hollers, Let Him Go (1945), details the fear, anger, and humiliation of a black employee of a racist defense plant during World War II. Cast the First Stone (1952) portrays prison life, and The Third Generation (1954) examines family life. The Third Generation and Cast the First Stone, had been rejected out-of-hand by his publisher. In the US, Himes was largely ignored.
Unlike Richard Wright, Himes was never caught in the Communist Party. His Lonely Crusade (1947) is a comprehensive fiction treatment of the conflict among blacks, the labor movement, and the Communist Party but it received scathing reviews from the american left though its French version was called one of the 5 best novels published in France during the 1940's. In general, he was well-thought of overseas so during the mid-1950s Chester Himes moved to Europe for good, first Paris where his serious literary novels left him quite poor.
Himes, as an exile, had considerable company in Paris. James Baldwin, Ralph Ellison, and Richard Wright were just the most notable of the presences. Whether in private flats or the pre-tourist Café Tournon some of the meetings amongst the expatriats are lengendary.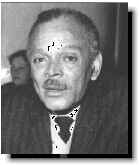 A 1957 meeting with Marcel Duhamel (he translated If He Hollers into French) changed his life. It began with Himes hoping to publish (Mamie Mason = Pinktoes) and ended with Himes and a $1,000 advance agreeing to write a detective novel - the French just loved Dashiell Hamett and Raymond Chandler. At first there was a false start with the unpublished Spanish Grin, and then Himes hit on a con game called "the Blow". Thus, his detective series set in New York's 50s and 60s Harlem began as part of the infamous La Serie Noire Black Crime Fiction Line.
The nine detective novels made Chester Himes an inter-
nationally acclaimed well-paid author. Ishmael Reed says "[Himes] taught me the difference between a black detective and Sherlock Homes" and it would be more than 30 years until another Black mystery writer, Walter Mosley and his Easy Rawlins and Mouse series, had even a similar effect. Himes' Coffin Ed and Grave Digger Jones are black detectives in Harlem. But here they are never allowed to deal with such classically simple crimes as a gangland robbery. Their personalities, their circumstances, and the philosophical implications of their actions are far more complicated than the usual hard-headed hard-boiled hero.
From Himes' first detective novel (1957), For Love of Imabelle = A Rage in Harlem (which one the Grand Prix for the best detective novel of the year): "As far back as Lieutenant Anderson could remember, bot of them, his two ace detectives with their identical big hard-shooting, head-whipping pistols, had always looked like two hog farmers on a weekend in the Big Town." Grave Digger has a lumpy face, reddish brown eyes that always seem to smolder, and a big and rugged frame. He is more articulate than Coffin Ed who has one distinct feature - his face, which has been badly scarred by a thrown glass of acid. Their nicknames indicate the respect they receive in Harlem. They drive the streets in a nondescript battered super-charged Plymouth and work mainly through sheer presence and chance.
For their time, the Coffin & Grave Digger were excessively violent, and it was directed only at blacks, typical of the time but paradoxical given the social consciences of the detectives. For example, the type crime that outrages the two detectives most is the kind that occurs in most popular (and eventually made into a 1970 film) Cotton Comes to Harlem (1965) - a hypocritical preacher extracting an enormous sum of money for a fake back-to-Africa movement.
Along with Run Man, Run (1966), another Harlem thriller; the novels, discussed on the Coffin and Grave Digger page, also include The Real Cool Killers, The Crazy Kill, All Shot Up, and The Big Gold Dream, The Heat's On, and Blind Man with a Pistol.